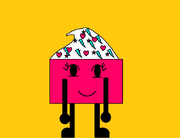 Information
Edit
Froyo is labeled The Tasty One. She breifly hates Sticky Notes because she is too obsessed with her (Froyo's) ice cream.  
An Act of a Problem
Edit
On Instagram, Amazing Jana posted auditions on photos (now deleted), on @jana_rules and A lot of People auditioned. Sara Saab said that she would want to be Dartboard or Froyo, then Maya Ghaddar said she wanted her. Jana then said Maya could voice Froyo, leaving Sara with Dartboard. She direct messaged the script to the people voicing on the show. everyone saw it and sent her their lines except for Maya. Then Jana gave Froyo to a girl named Amara and however, her Instagram wasn't working due to her email, so then texted her it since Jana and Amara are cousins. Amara didn't send her lines either, so Jana decided to keep the role to herself.
She, Eco Cup, and Justice are the first to share an actress with the second being Palette and Sticky Notes.
There were 2 actresses going to voice her, but both were inactive so the Creator, Amazing Jana, decided that she would voice her instead.