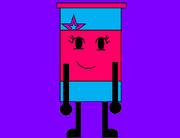 Imformation
Edit
Eco Cup is the host of TCLOTO. Her Assistant is Justice. She gets mixed up with Framey and Dartboard's names (AKA Dartboardy and Frame),which Dartboard hates. 
TCLOTO is the first object show to ever contain a female host, which is her.
Eco Cup's Anti side is invert colors, without white outline.
Ad blocker interference detected!
Wikia is a free-to-use site that makes money from advertising. We have a modified experience for viewers using ad blockers

Wikia is not accessible if you've made further modifications. Remove the custom ad blocker rule(s) and the page will load as expected.