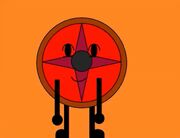 Information
Edit
He is labeled The Locator. He gets help in his challenges with himself, when the direction lights up in green. He is often rude to Root Beer 24/7, because he (Root Beer) keeps blaming Compass.
He and Cassette were the replacements for a scrapped character.
He is the only boy in Team Amazement.
There is another Compass contestant in Battle for Champion's Resort.
He and Dartboard may be the same height.
Despite Compass' design, original compasses only have arrows on top and bottom.
Nicknames
Edit
The Contestant that cheats~Root Beer
2nd Best Friend~ Sticky Notes