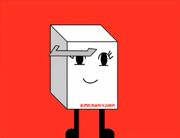 Information
Edit
She is labeled The foreign one. Root Beer isn't really into her.
She was originally going to have arms.
Her Chinese says "The Courageous Life of them Objects.
She is Similar to Chopsticky from Competition for Fun Land Becuase:

They have Chinese Accents.
They start with C.
They are Chinese Related.
They either are armless or legless.